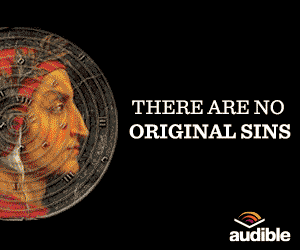 If you're like me, you like to work or even work out while listening to something. Whether it be music, listening to a podcast, or even an audiobook. Personally, I have never listened to an audiobook, and I really wanted to buy Dan Brown's new book "The Inferno." That's where Audible by Amazon comes in. Right now, you can sign up for a FREE 30 day trial, which also comes with one FREE audiobook if your choice to download. Before joining, I checked out there selection and they actually have "The Inferno" already available to download! If that's something that doesn't interest you, I can tell you that they have over 10,000 selections to choose from including The Help, The Hunger Games, 50 Shades of Grey and many more bestsellers. And, you can listen to your audibooks from your iPhone, Android, iPad, iPod, Kindle Fire, Windows Phone, and more.
Every month, you will get one book credit for FREE. Most books only cost one credit, so you'll be able to score a new book every month. You can then download the book to your computer or mobile device. It's yours to keep and listen to whenever you want.
To get started, just head on over to Audible.com and sign up for a FREE 30 day trial. Note that you will be asked to login with you Amazon account. If you don't have one, it will prompt you to create one. For this offer, it does require a credit card. If you already have one linked to your Amazon account, then you won't have to add it. After sign up, just find the FREE audiobook you want to download. It's that easy!
After your 30 day trial, your membership will automatically renew each month for just $14.95, billed to the credit card you used when you registered with Audible. With your membership, you will receive one credit per month plus members-only discounts on all audio purchases. If you cancel your membership before your free trial period is up, you will not be charged.
The Fine Print: Get an audiobook of your choice, free, with a 30-day trial. After the trial, your paid membership will begin at $14.95 per month. With your membership, you will receive one credit every month, good for any audiobook on Audible.  Cancel anytime, effective the next monthly billing cycle. Cancel before your trial ends and you will not be charged. Check out the full terms and policies that apply to Audible membership.